Evolving tapestry embodies ancestral wisdom of the ocean and current governance developments in South Africa
By Lisa McDonald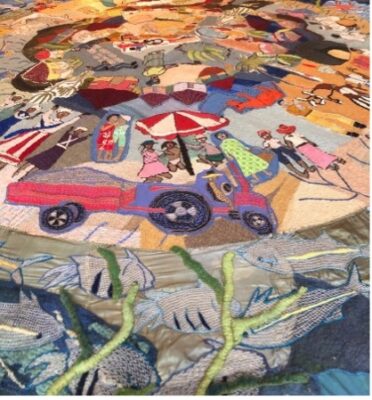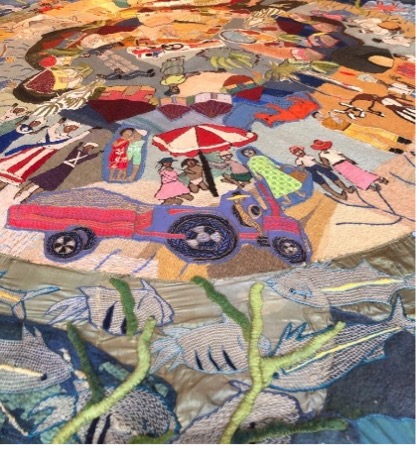 Our Sacred Ocean, a magnificent tapestry created by the Keiskamma Art Project with the support of One Ocean's Hub's DEEP Fund, was recently displayed at Zero Gallery in Cape Town, South Africa, as part of the exhibition Our Ocean is Sacred, You Can't Mine Heaven, curated by Hub researcher Dr Dylan McGarry of Rhodes University. Display of the tapestry enabled visitors to develop understanding of customary practices related to the ocean, while also providing an opportunity for artists and Hub researchers to come together and apply final stitches to the work of art that express current developments in ocean governance in South Africa facilitated by Hub research.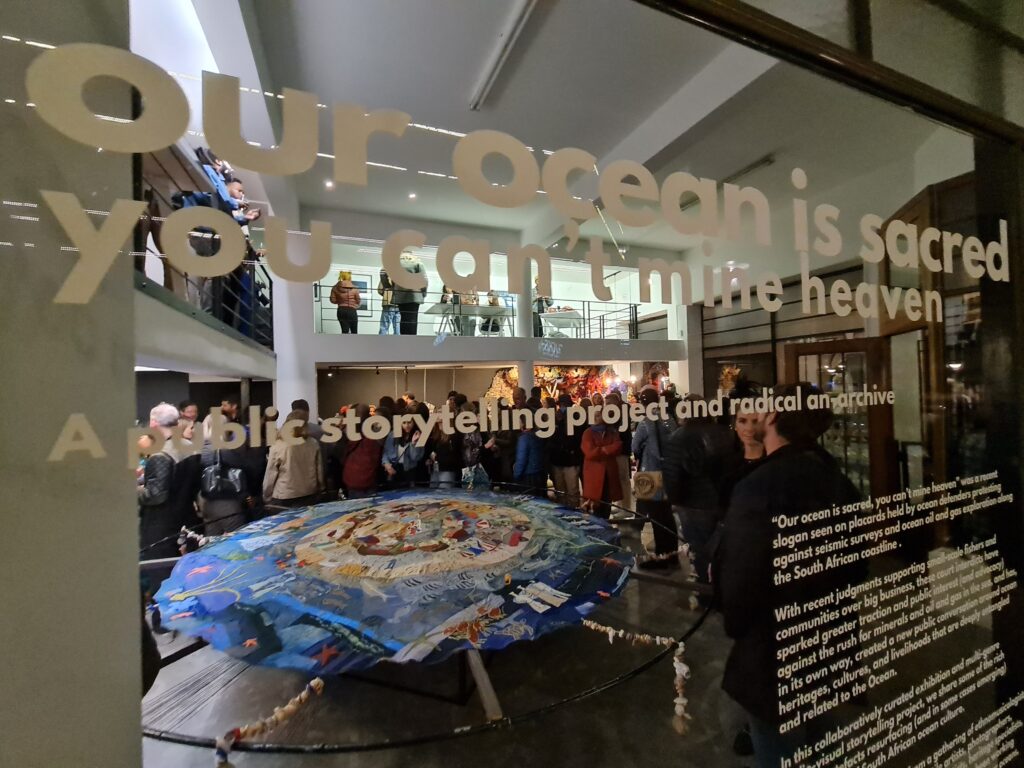 Over a three-month period, thousands of visitors appreciated the meticulously crafted work of art produced by Project artists Cebo Mvubu, Ndileka Mapuma, Nozeti Makhubalo, Sanela Maxengana, Thandazwa Mqali, Zukiswa Sikani, Nandipha Yona, Veronica Betani, Nombulelo Paliso, Fikiswa Madlingozi, Nomfundo Makhubalo and Nozolile Gedze.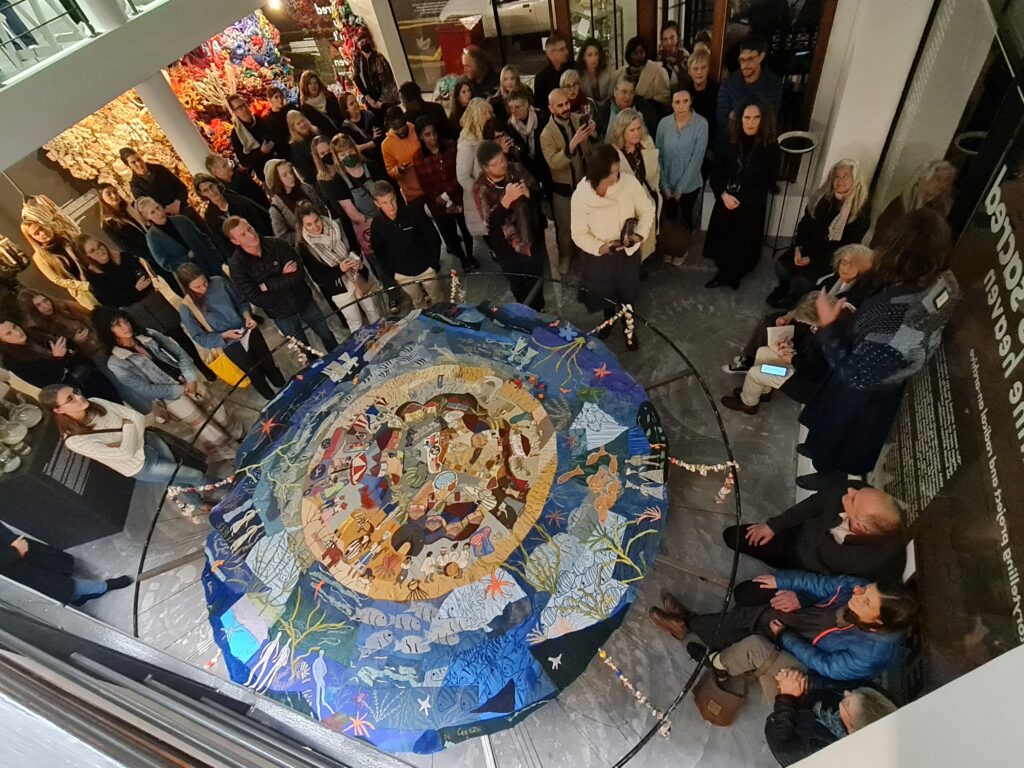 The tapestry shares time-honored memories and rituals related to the ocean, as expressed by the communities of Hamburg and Bodium in South Africa's Eastern Cape.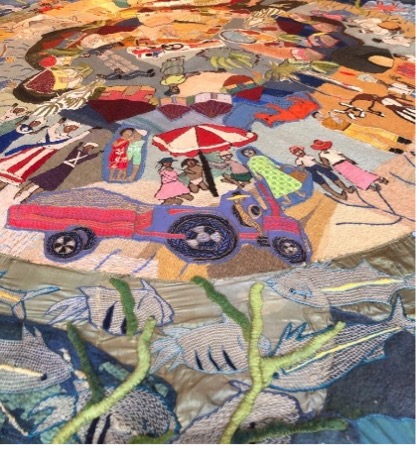 Intricately embroidered motifs reveal ancestral wisdom and customary practices that were collated during intergenerational knowledge exchange workshops and storytelling sessions, facilitated by advisory elders Nozeti Makhubalo, Nompumelelo Nompunga, Vivian Solwandle and Nokhanyiso Nompunga.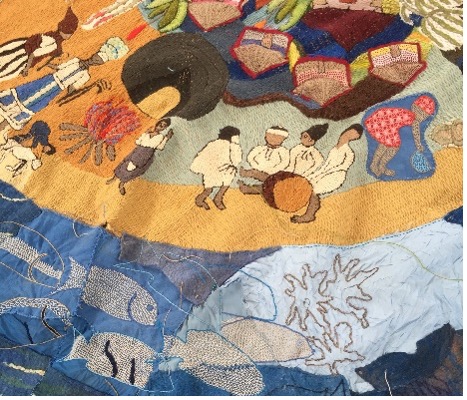 During the final week of the exhibition, artists Veronica Betani, Nozeti Makhubalo and Sanela Maxengana, along with Keiskamma Project Manager Michaela Howse, were joined by One Ocean Hub researchers in Cape Town to collectively complete the tapestry's final details.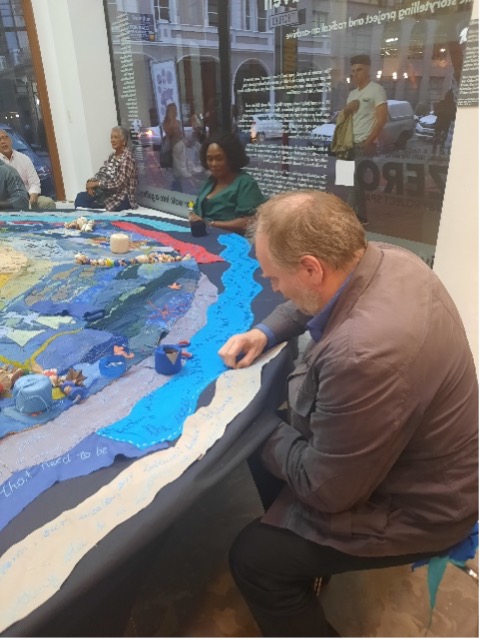 Artists and Hub researchers added a boarder to the edge of the tapestry, in which text was embroidered from the recent High Court judgement to set aside oil and gas exploration rights granted to Shell and Impact Africa – a verdict directly influenced by the work of Hub researchers in South Africa.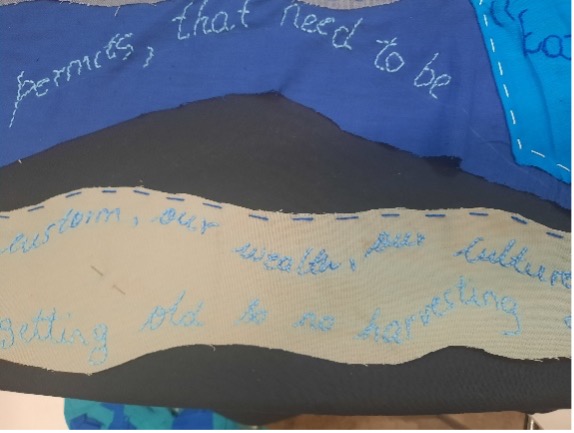 One Ocean Hub researcher and DEEP Fund manager Dr Lisa McDonald, from the Glasgow School of Art, notes, 'it was an immense privilege and pleasure to join Veronica, Nozeti, Sanela and Michaela in Cape Town. The Kesikamma Art Project has produced a majestic work of art that conveys the importance of the ocean to the Hamburg and Bodium communities, and it was an honour to be invited to contribute to the work of these very talented artists.'
Main photo by: Jono Bennett