STRENGTHENING SPIRITUAL AND CULTURAL UNDERSTANDINGS OF THE OCEAN IN A TIME OF CLIMATE CHANGE
By Senia Febrica, Kira Erwin, and Mitchell Lennan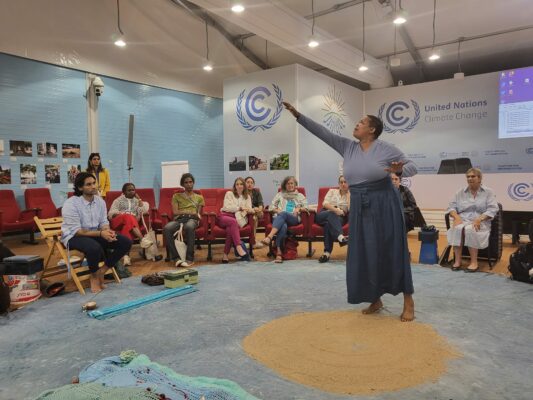 During COP27 Oceans & Land Day, the empatheatre team performed the play Lalela uLwandle (Listen to the Sea) to explore how we may start to buildresilience and adaptation to climate change through environmentally just and equitable processes. The play and ensuing discussion highlighted that we need to make decisions about the oceans that are inclusive of diverse forms of knowledge to achieve just and equitable climate change resilience and adaptation processes.
The One Ocean Hub was invited by the United Nations Framework Convention on Climate Change's Paris Committee on Capacity-building to showcase the Empatheatre's production Lalela uLwandle for the 4th Capacity-Building Hub at COP27 in Sharm El-Sheikh. On 14 November 2022, during the Oceans & Land Day, COP27 delegates had the opportunity to experience Lalela uLwandle – a research-based theatre performance and public dialogue developed by a South African collective called Empatheatre, who are part of the One Ocean Hub. Whilst grounded in South African experiences, the inter-generational stories of the sea performed in Lalela uLwandle resonate strongly with an international audience.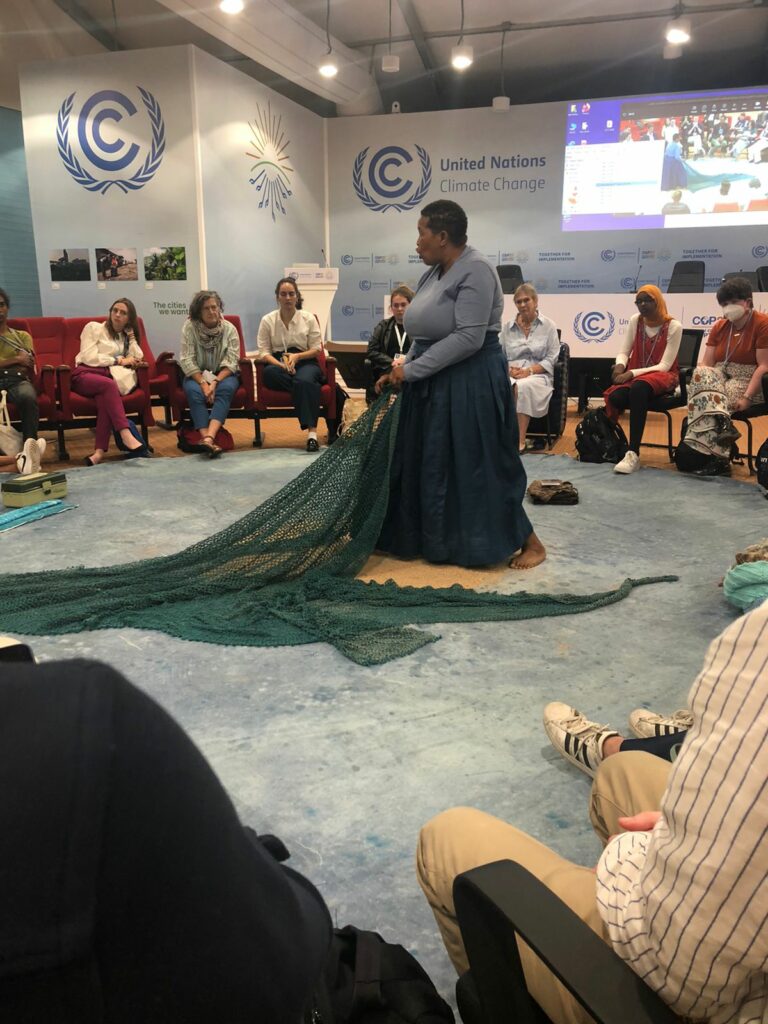 The play expanded our imagination and capacity to listen to a multitude of voices on how we relate to the sea, including the voices of indigenous peoples, small-scale fishing communities, women, and youth. These voices are often overlooked in ocean policy forums on climate change adaptation and blue economy initiatives. Experiences of exclusion from decision making processes, concerns around the exploitation of natural resources and marine protection, and questions around how to include cultural heritage in policy spaces are shared by many people across the planet. The play offered an invitation to a public conversation on how cultural, scientific and conservation knowledge may, if people learn to listen to each other carefully, find strategic alignment. It drew attention to how symbolic, religious, cultural, and economic meanings humans construct in relation to the ocean must be taken into consideration in governance decision-making. As part of the Empatheatre methodology, the performance was followed by a facilitated public-discussion with researchers, performers, decision-makers, and the audience on the themes that emerge from the play.
The key messages highlighted in the Lalela uLwandle performance and post-performance discussion at COP27 include the following:
We all have a cultural, spiritual relationship with the ocean. But many of us have been disconnected from the sea.
The sea has stories and is showing us the way to respond to the climate crisis and we need to listen.
Everyone must be included when decisions are made on the ocean
We need to include and listen to the voices of Indigenous peoples, small-scale fishing communities, women, and youth to ensure integrated and fair ocean-climate actions.
We need to look beyond natural sciences and include arts and other branches of knowledges to co-develop ocean-climate action.
Arts-based methods allow us to understand and appreciate the role of indigenous knowledge in climate-action.
Cultural heritage provides necessary insights for integrated ocean-climate action.
Empatheatre nourishes learning through curiosity and wonder which gives hope for inclusive climate action.
Session speakers and facilitators
Alison Mary Cassels, Empatheatre
Cleo Droomer, Empatheatre
Dr Dylan Kenneth McGarry, Rhodes University
Dr Kira Erwin, Durban University of Technology
Marí Stimie, Empatheatre
Mitchell Lennan, One Ocean Hub
Neil Stewart Coppen, Empatheatre
Phumelephi Mthombeni, Empatheatre
Rory Booth, Empatheatre
See the recording of Land & Ocean Day of Capacity Building Hub here (Watch Lalela uLwandle from 09:10:27)