The threat of plastic pollution in Ghana
By Geslaine Goncalves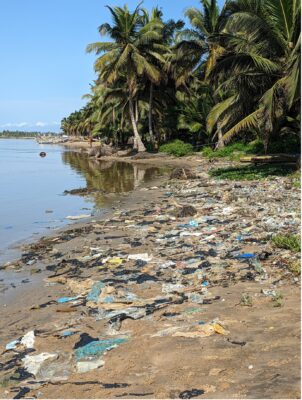 This blog post aims to address the critical issue of plastic pollution in Ghana. Hub researchers Bhavani Narayanaswamy and Geslaine Goncalves (Scottish Association for Marine Science, SAMS, UK) are working together with Joseph Aggrey-Fynn and Benjamin Nyarko and students at the University of Cape Coast (UCC, Ghana) exploring the challenges posed by plastic consumption and disposal, and their detrimental effects on the environment and communities. This blog post explores the challenges that Ghana faces in managing its plastics waste, the devastating consequences for human health and the environment. Also, the urgent need for Ghana to address these issues collectively.
A visible problem
Plastic waste is a visible problem in Ghana. Waste management remains a significant challenge, with blocked drainage systems leading to flooding, thus making it a public health issue. The lack of a proper waste management system means that recycling is not an option, resulting in plastic waste being left to accumulate in open dumpsites around communities, rivers, and oceans. In many places, communities try to solve this problem by burning the waste. However, this can cause more problems as burning plastic releases toxic gases into the atmosphere causing air pollution.
The most common single-use plastics seen everywhere in Ghana are those used for meals and drinking water, which are simply discarded into the environment. Leftover fishing gear is found on the beaches and mangroves, as are many other plastics sources. In addition, a large amount of synthetic hair i.e., made of plastic, was also found in the environment. These hair extensions are used for just a few weeks or months before being removed and discarded. Despite the growing awareness of the impact of plastic pollution in Ghana, there are few regulations in place to manage its disposal and production.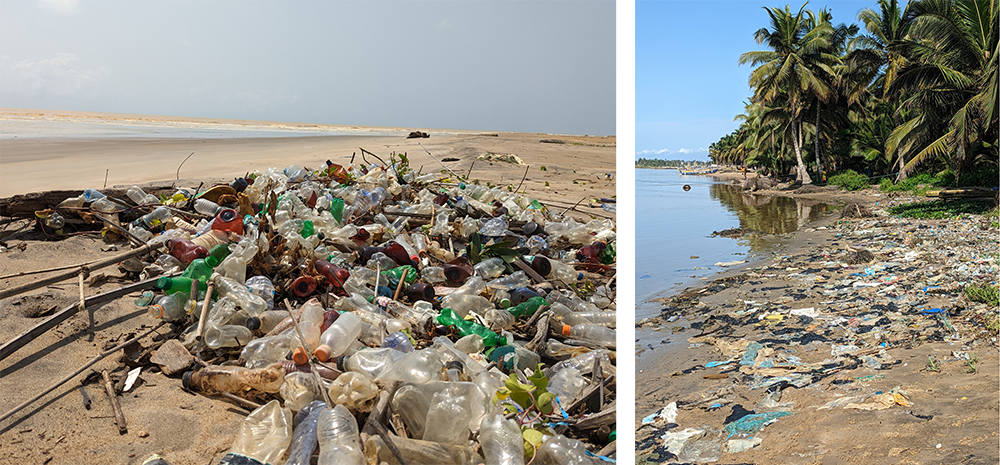 Our research
Hub researchers are committed to working with a wide network of actors in Ghana to address threats to ocean health such as plastics. The team from SAMS and UCC have developed a research programme investigating levels of plastic pollution and its impact on coastal ecosystems and communities. Narayanaswamy ran a course, titled 'Plastics in the marine environment', where UCC students were taught about the wide-scale global problem of plastics in the marine environment and about collecting samples for plastic research. In addition, Narayanaswamy and approximately 60 students practice water and sediment sampling collections for microplastic analyses, and sediment samples for mesoplastic and macroplastic, as well as using the guidelines for monitoring marine Litter on the Beaches under the OSPAR Convention (Convention for the Protection of the Marine Environment of the North-East Atlantic). This has generated greater research interest in this area, with more UCC students developing work on monitoring plastic pollution in coastal areas in conjunction with Narayanaswamy.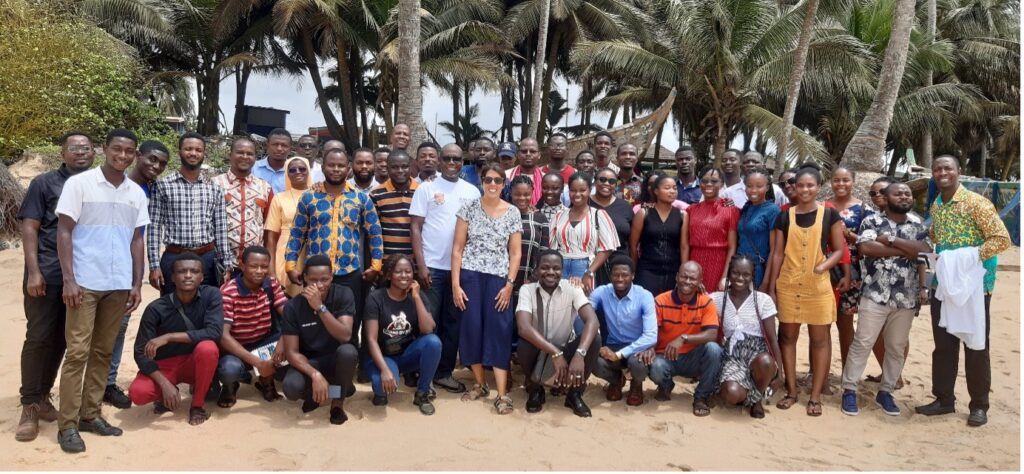 The research that SAMS has developed in Ghana in partnership with UCC focuses on many different elements. SAMS's ongoing research has focused on estimating the levels of plastic pollution in four regions comprising mangroves and coastal beaches. Through the sampling campaign with UCC, Hub researchers are analysing water and sediment samples to determine the microplastic (particles that cannot be seen) types and levels. Also, estimating the types and levels of plastic coverage in mangrove sediment and beaches. We use images captured from drone, that will be used by artificial intelligence to estimate the types and levels of plastic in these regions.
Furthermore, the plastic contamination of mangrove crabs is also being investigated by SAMS in collaboration with Rachael Hall (Heriot-Watt University, UK). UCC postgraduate students are investigating the impact of plastic pollution on the fishing communities themselves and the impact on their income, on the basis of estimates of ingestion of plastic particles by commercial fish species.
Building partnerships for a sustainable future
Efforts to tackle plastic pollution in Ghana are slowly gaining momentum. Ghana has taken steps to decrease and even ban the use of single-use plastics in the country, and there is growing awareness amongst Ghanian citizens about the importance of reducing plastic consumption and improving waste management practices. However, there is still much to be done, as awareness among some rural communities about the persistence of plastic waste in the ocean and its impacts on human health and the environment is limited.
In addition to government initiatives, several local organisations and individuals are taking steps to combat plastic pollution, working with communities to promote the use of sustainable alternatives to plastic, such as reusable bags, bottles, and utensils. International cooperation and support are also crucial in addressing this global issue effectively. Mitigating plastic pollution in Ghana requires a collective effort to reduce plastic consumption, improve waste management practices, and protect the environment.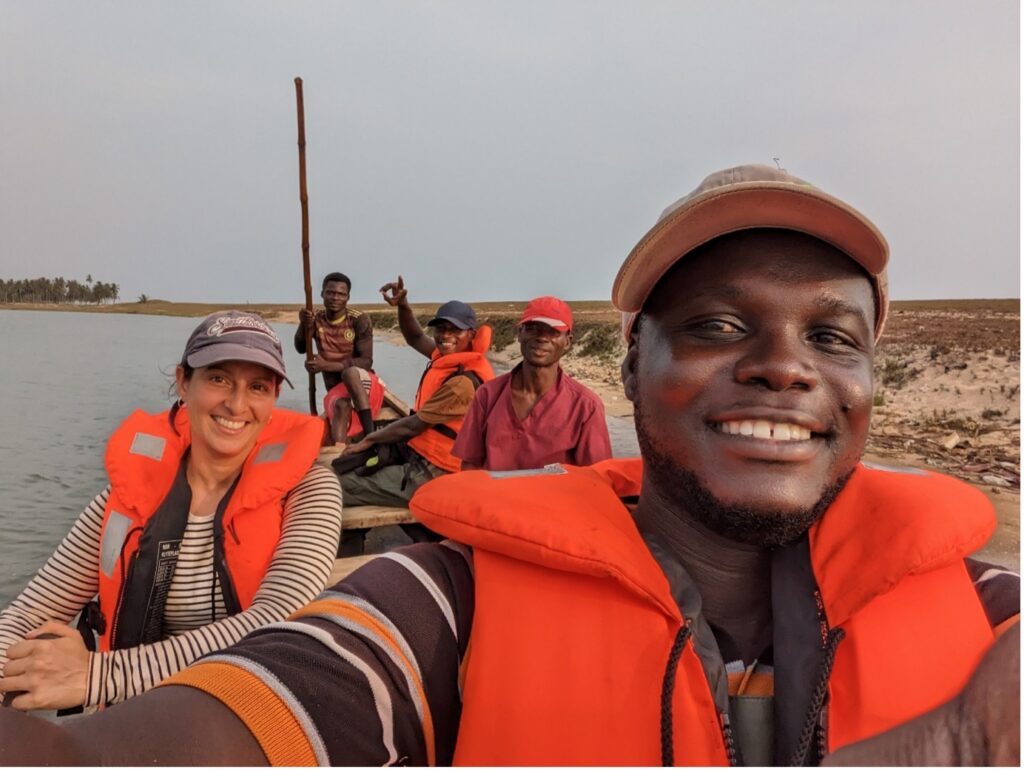 Studies investigating the levels of plastic pollution in Ghana are essential to demonstrate to the local authorities the vast scale of the problem in mangrove and coastal regions. In addition, Hub researchers are currently generating results on the impacts of plastic pollution on coastal and marine ecosystems, which can inform future plans to reduce plastic consumption and improve waste management. These findings will soon be integrated with ongoing Hub research on the socio-cultural impacts of ocean plastics on small-scale fishing communities, including women and children, and the need to protect human rights in the context of plastic pollution reduction and broader ocean governance in Ghana.