DEEP Fund projects highlighting Indigenous connections to the ocean presented to local community and decision-makers in Vanuatu  
By Lisa McDonald and Stuart Jeffrey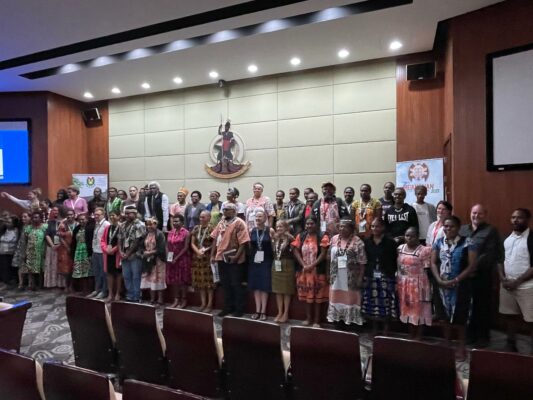 Following the highly successful launch of the Undercurrents exhibition in Glasgow, and subsequent pavilion at Somerset House in London as part of the 2023 Design Biennale, recent DEEP Fund activities have shifted focus back to project partner countries. Intrinsic to the DEEP Fund is a commitment to support dissemination and engagement activities proposed by project collaborators. This means that, counter to approaches that instrumentalise creative works solely for the agendas of funders, the DEEP Fund focuses on collaborating with projects to identify audiences of influence most important to them, including local, national and regional decision-makers. Exemplifying this approach, the creative outputs of the Hub's three Pacific DEEP Fund projects were presented at the 7th Melanesian Arts and Culture Festival (MACFEST) held in July 2023 in Port Vila, Vanuatu.
Undercurrents: Art and Ocean in Melanesia, staged at the National Library and Archives of Vanuatu, featured a diverse range of artforms:
Wearable art by members of the Association of Solomon Islanders in Creative Fashion,
co-produced murals by Pax Jakupa (Papua New Guinea), Lloyd Newton (Solomon Islands) and Alvaro Sumaki Kuautonga (Vanuatu) each highlighted the centrality of relationships with the ocean to indigenous lifestyles and worldviews.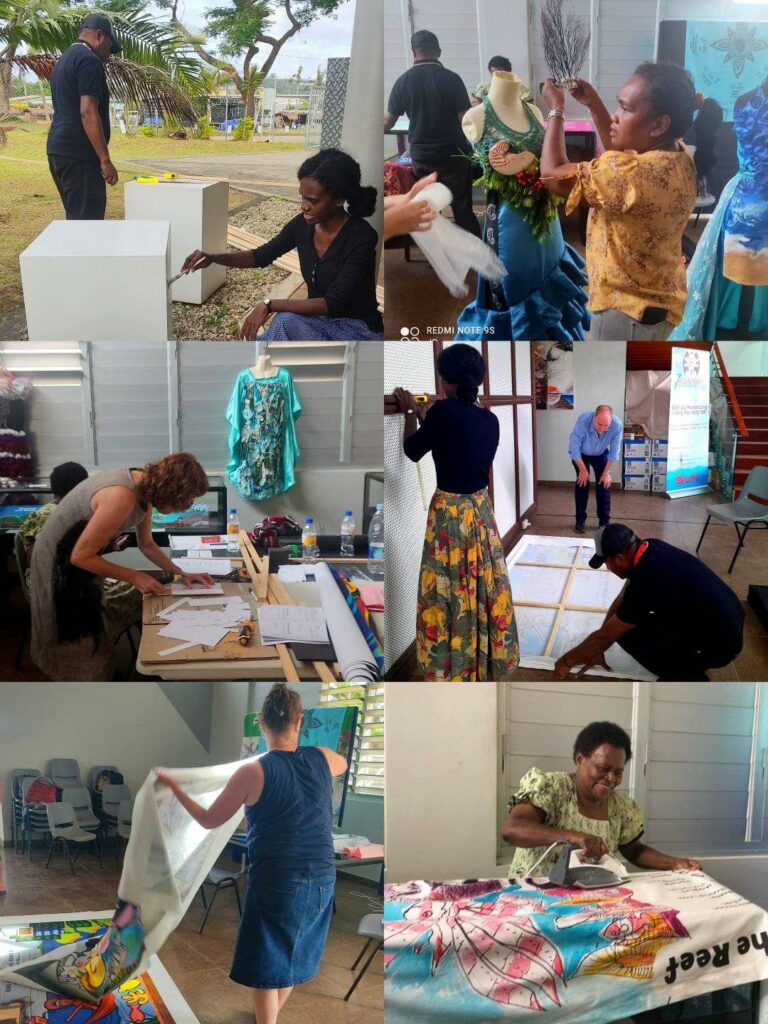 At a time when the waters of the Pacific region are increasing threatened by stressors such as ocean acidification, proposed deep-sea mining and coastal (over)development, the exhibition was a timely intervention to reinforce the imperative of local customs to strategies of inclusive ocean governance. In her speech to launch the exhibition, Tu Helen Naupa of the Erromangan Cultural Association noted, "Our traditional knowledge, our protocols and practices are the undercurrents with which we sustain our societies across generations, and across seas."
The exhibition attracted significant attention from a range of influential stakeholders including government ministers, policy and decision-makers, customary chiefs and community leaders. This range of engagement spanned those directly responsible for setting legal frameworks at state and global levels, as well as those with the capacity to directly influence and empower groups such as artisanal fishers and aquaculture farmers. Among the dignitaries to attend the exhibition's launch were Ms Nicolette Brent (United Kingdom High Commissioner to Vanuatu), Ms Ria Bhagat (Second Secretary, Australian High Commission), Hon Ralph Regenvanu (Minister of Climate Change, Vanuatu), Mr Dennis Marita (Director of Culture, Solomon Islands), Mr William Naviti (Director of Fisheries, Vanuatu), Ms Nicola Simmonds (New Zealand High Commissioner to Vanuatu) and Mr Toney Tevi (Director of Ocean Affairs, Vanuatu). Just as crucially, the exhibition drew many hundreds of visitors from around Melanesia and beyond, while also being featured by regional media outlets (see here at 14:06).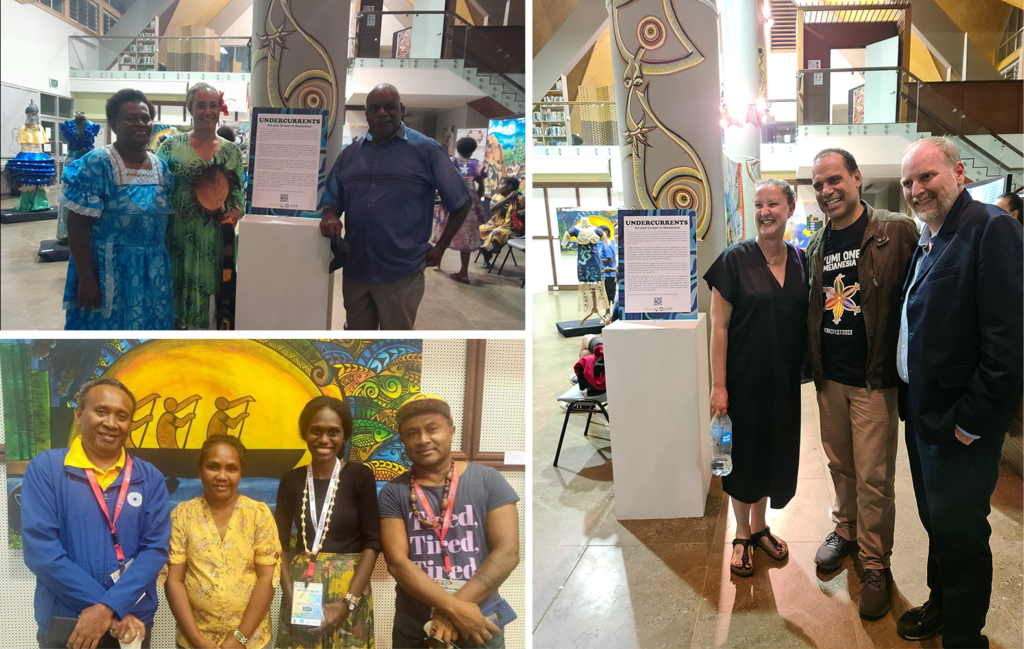 Participation at MACFEST yielded a number of beneficial results. Collaborators from different DEEP Fund projects were brought together, many of whom had not previously met in person. Members of the Erromango Cultural Association and Alvaro Sumaki Kuautonga were joined in Port Vila by Lloyd Newton, Julie Pelomo and Hilliene Hilly from Solomon Islands, Pax Jakupa from Papua New Guinea, and Prof Stuart Jeffrey and Dr Lisa McDonald from The Glasgow School of Art. "This provided the team a valuable opportunity to spend time reflecting on three years of collaborative work, share knowledge and extended recognition of the achievements attained by each project", Lisa says.
In tandem to the exhibition, Dr Lisa McDonald and Tu Helen Naupa, with comment from Pax Jakupa, delivered an insightful conference paper at an academic symposium convened by the National University of Vanuatu (see here 2:02:46). The presentation not only focussed on issues pertaining to marine management, but also discussed the imperatives of creative economies and cultural preservation in Melanesian contexts. The session was well-received and instigated further discussion among an international audience of knowledge holders, researchers and practitioners in the domains of indigenous knowledge, culture and practice.