Reflecting on opportunities and tensions in academic solidarity practices with environmental human rights defenders
By Elaine Webster, Taryn Pereira and Elisa Morgera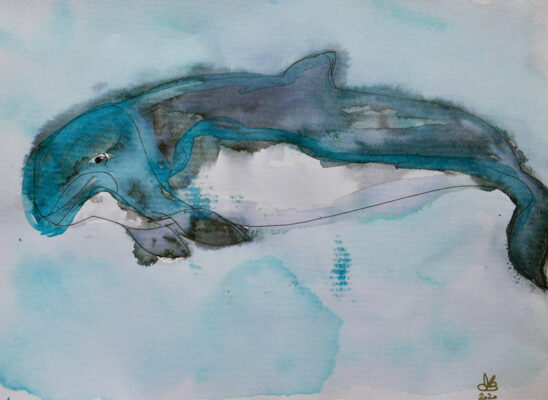 'How can we expand our imaginations of solidarity in support of human rights defenders?' this question was posed by keynote speaker Wangui Kimari (Mathare Social Justice Center, Nairobi, Kenya) at the opening of the 2023 annual conference of the Association of Human Rights Institutes under the theme, 'Human Rights Defenders Under Siege' (7-9 September 2023, Bilbao, Spain). This question was at the heart of the contributions made at the conference by One Ocean Hub Director Elisa Morgera (University of Strathclyde, UK), South African Co-Director Taryn Pereira (Rhodes University, South Africa), and Elaine Webster (University of Strathclyde, UK).
The conference offered an opportunity to share and contrast the research and practices under the One Ocean Hub on ocean defenders as environmental human rights defenders (see also here, here, here, and here) with other academic research and practice with human rights defenders more broadly.
Hub contributions
The three Hub papers presented contributed to the conference track on the role of academia in support of human rights defenders (HRDs), raised the profile of ocean human rights defenders as environmental human rights defenders and explored different facets of navigating academic solidarity practices at different scales. Connections were explored between local communities and the international human rights community, between locally embedded academics and internationally located academics, and the inter-relationships between these.
The papers drew on research and experience within the Hub, including the work of the Coastal Justice Network in South Africa, collaborations with UN bodies to increase visibility of ocean as well as land-based environmental defenders (see also here), as well as cross-disciplinary research-for-development practices within academic institutions and within the Hub community of researchers.
Key questions developed in each conference paper included:
Elisa Morgera:
What are the distinctive challenges faced by ocean defenders due to the more limited understanding of dispossession and discrimination in the context of ocean governance than in the context of land governance?
To what extent the protection of cultural rights and the human right to science can help prevent other human rights violations in participatory processes with regard to the ocean?
To what extent is the role of ocean defenders recognized as contributing to the protection of everyone's human right to a healthy environment?
How can academics help build bridges between the UN and ocean defenders, considering the diverge of understanding, commitment and capacity across the UN System?
Taryn Pereira:
What are South African ocean defenders up against in terms of the existential threats to ocean well-being, as well as the risks incurred through their ocean defending activities?
What are the roles and strategies that scholar activists can develop in solidarity with ocean defenders to support their work and absorb some of the risks?
How does research practice, funding and ethics need to expand in order to enable greater solidarity between academic researchers and ocean defenders?
Elaine Webster:
How can internationally located legal academics support the growth of human rights framings of local justice struggles in ways that make a positive contribution, acknowledging contemporary and historical context?
How might this contribute to recognition of ocean defenders as human rights defenders, and what are the prospects for supporting shifts in power dynamics and burdens of accountability?
How to overcome the challenge that human rights language is often associated more with legal enforcement than integration in operational and strategic decision-making?
In ensuing discussions, the conference participants' questions and remarks focused on:
the emergence of ocean defenders, including in the context of the common heritage of humankind under the international regime on deep-seabed mining (see also here);
the contributions that ocean defenders are making to protect a suite of intersecting human rights, and the ways that researchers can support and enhance this work;
the tensions faced by researchers in playing multiple roles in crossing the boundaries between academia and activism, and how to make this more visible and better supported.
Learnings
There were many take-aways from other contributions at the conference that are relevant to ongoing Hub research on ocean defenders, such as:
The need to recognise the repression of human rights defenders that goes beyond violations of physical integrity and restrictions on civic space, including discrediting knowledge, stigmatisation, forced displacement, surveillance, and criminalisation;
The value of academic funding and institutional mechanisms recognising practical (e.g. financial, childcare, etc) support to human rights defenders as a legitimate 'cost';
The need to acknowledge the long timeframes that characterise work with human rights defenders;
the need to imagine academic solidarity with respect to the holistic needs of human rights defenders;
The need to understand the role of EHRDs in social leadership, that is the collective processes for human rights protection that may have evolving political agendas depending on evolving contexts;
The importance of identifying instances in national laws of barriers to an enabling environment for EHRDs, and prevent their criminalization or harassment (which can include deliberate delays in response from public authorities, or denied/limited access to public services);
The right of HRDs to debate and develop ideas that go against neoliberal and extractive approaches that may be in constant evolution as arising from dynamic social movements.
Keynote speaker Prof Alice Nah also shared her latest empirical research findings on the wellbeing of human rights defenders, highlighting that:
Unhealthy power relations can exist also among civil society actors that support human rights defenders, particularly when some are providing funding;
Human rights defenders often suffer from exhaustion and burn-out because the challenges they face seem overwhelming and unending, so there is a need to factor in wellbeing practices in solidarity programmes; at the same time, engaging in human rights work is also a source of well-being for defenders, as it can allow for meaning, connection and healing;
We need to understand and make visible the risks that individual academics and research institutions are willing to take to work in solidarity with human rights defenders.
In addition, Hub researchers learnt with great interest that the Special Rapporteur on Environmental Defenders under the Aarhus Convention on procedural environmental rights (which is global in scope, but mainly counts on European and Central Asian State Parties) has a mandate to investigate threats to EHRDs by private companies based in State parties but operating abroad, and could approach directly the CEO of European companies operating abroad in this connection.
Artwork: Elisa Morgera