Showcasing the role of Ocean Research for Climate Adaptation
By Senia Febrica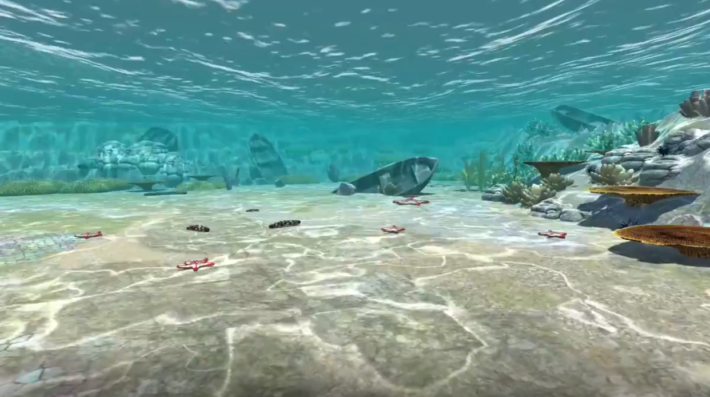 The One Ocean Hub organized a webinar, attended by over 100 participants, on 'Ocean and Climate Change: Building Adaptation, Mitigation, and Resilience' as part of the UK Research and Innovation (UKRI) Adaptation and Resilience Online Series on 27th September 2021. The webinar aimed to showcase the crucial role of inter-disciplinary and transdisciplinary ocean research to advance climate change adaptation and resilience, with interventions from across deep-sea ecology and ecosystem modelling to social sciences and law.
Ms Sarah Blackburn (UKRI) illustrated collaborative work among funders to improve understanding of the impacts of climate change on the ocean and address knowledge gaps to improve ocean health and communities' resilience. She highlighted that the One Ocean Hub is exactly the type of research needed to adapt to future climate change scenarios, by integrating experts from different disciplines, coastal communities, civil society and decision makers, and by supporting learning from different knowledge systems.
Ms Kathryn Dawson (UK Department for Environment, Food and Rural Affairs (DEFRA) outlined the priorities of the UK Presidency of COP26 on ocean and climate change, with a focus on nature-based solutions. She noted the pressing need to focus on the finance and science enablers to support ocean resilience and reduce the multipliers of ocean and climate risk, biodiversity loss and negative impacts on livelihoods.
Professor Murray Roberts (University of Edinburgh, UK) explained interactions between deep-sea ecosystems and climate change (including how climate change has direct and rapid impacts on coral reefs, leading to a potential collapse and loss of complexity of the larger habitat and the biodiversity that coral reefs support: Hennige et.al, 2020). He highlighted the need to remove barriers between biodiversity and climate change science and policy development.
The webinar then proceeded with presentations on ecosystem modelling to develop support tools for climate change adaptation in South Africa. Dr Lynne Shannon and Dr Kelly Ortega-Cisneros (University of Cape Town, South Africa) research on Ecospace and Ecopath with Ecosim Modelling of Southern Benguela, South-East Coast and Algoa Bay brought to light the sensitivity of fisheries to climate change. Their presentations showed how innovative research on ecosystems models and integration of socio-economic data can help explore different outcomes of fisheries management scenarios and support decision-making. Dr Bernadette Snow's (University of Strathclyde, UK) presentation focused on the integration of different knowledge systems in applying a systems analysis approach to integrated ocean management and marine spatial planning in Algoa Bay, South Africa. She stressed that the integration of different knowledge systems in System Dynamic Models can help develop scenarios and discuss possible outcomes of different policy interventions.
Presentations delivered by Dr John Ansah, Dr Gina Yaa Oduro, and Dr Emmanuel Acheampong (the University of Cape Coast, Ghana) offered insights on community-based climate adaptation. Dr Acheampong pointed out that climate change will contribute to 50% decline in fisheries catches and employment opportunities for artisanal fishers in Ghana, while community-based adaptation through oyster and finfish farming can support sustainable fisheries and address socio-economic and cultural issues in the small-scale fisheries sector (SDG 14b). Dr Oduro and Dr Ansah further argued that the implementation of community-based adaptation measures needs to take into account possible harm to communities, such as displacement of fishermen and loss of landing sites, as well as impacts on culture and religion.
Professor Elisa Morgera (University of Strathclyde, UK) noted the relevance of the different strands of inter-and-transdiciplinary research under the Hub to the protection of human rights to life, health, food, water, and culture that are dependent on a healthy ocean (Morgera, 2021) in line with guidance adopted under the Convention on Biological Diversity on the nexus between biodiversity, climate change and the ocean.
The event was chaired by Mitchell Lennan (early-career researcher at University of Strathclyde, UK). Questions from the audience focused on the connection between temperature, deoxygenation, nutrient and acidification; and the potential role of a new international legally binding instrument on marine biodiversity of areas beyond national jurisdiction, currently under negotiations at the UN (see here and here), to address the ocean-climate nexus.
These and other questions will continue to be addressed as part of a wider programme of activities of the Hub before, during and after the upcoming UN Climate Conference (COP26) in Glasgow, Scotland.