Spotlight on early-career researchers: david wilson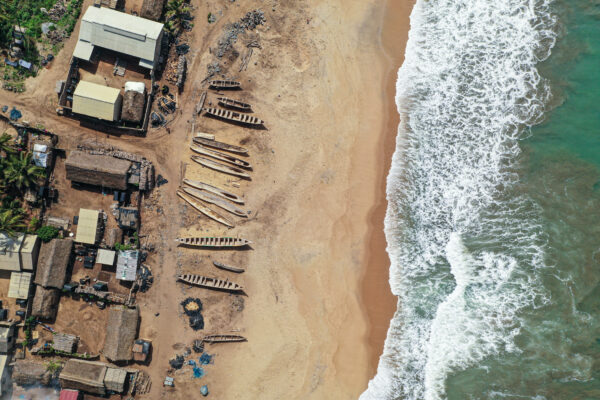 My name is David Wilson, I am a historian and early-career researcher based at the University of Strathclyde, Glasgow. My research centres on the history of colonisation and marine space, particularly surrounding the impact of colonisation on marine law and governance. I am especially interested in how colonisation led to disparate outcomes across distinctive coastal and marine settings, impacting differently on communities and environments.
What's your greatest achievement since you started working for the One Ocean Hub?
I believe my greatest achievement has been establishing the Customary Laws of the Coast and Sea Research Group within the Hub. This was borne out of a group originally focused on organising an in-person workshop in Ghana surrounding customary law, which was unable to occur due to the Covid-19 pandemic. Instead, we shifted online, opening up the group to include all interested Hub researchers, and beginning discussions on these themes and our research through regular meetings. The group is now focused on the organisation of a series of online sessions—led by Dr Bola Erinosho (University of Cape Coast, Ghana), Mia Strand (Nelson Mandela University, South Africa), and I—that bring together researchers and civil society organisations to present perspectives on customary law and intangible heritage within ocean governance across different contexts (see here and here). These sessions seek to learn from both successes and setbacks in developing ocean governance processes centred on customary law and intangible heritage. These discussions and sessions have greatly influenced my own learning while also providing a space for Hub and non-Hub researchers and partners to discuss these issues, which are central to ensuring future just and sustainable ocean governance.
How does your work contribute to shaping the One Ocean Hub's interdisciplinary endeavours?
Alongside the Customary Laws of the Coast and Sea Research group, which is interdisciplinary in nature and outlook, my own work centres on recognising the importance of interrogating how colonisation has produced unequal access to marine space, resources, and decision-making in different ways through different methods across time and space. To understand and address these ongoing injustices and inequities, my work stresses that we need to pay close attention to the deep entanglements of law, colonialism, and marine rights in the past and present. This requires not just recognising these past injustices but also understanding how they have shaped current developments across highly specific contexts. My work is especially focused on Ghana, where I work closely with colleagues within law, sociology, and anthropology at the University of Cape Coast and University of Education (Winneba). Through this research, my work is helping to embed the legal, social science, and arts-based work of the Hub with this long historical lens, which is in turn shaping how this work is also engaging with the evidence gathered through the marine sciences-based research. I am now also beginning to collaborate with colleagues at the University of Namibia in similar ways.
What opportunity has the Hub provided you to lead on innovative research? How has the Hub enhanced your leadership skills?
The Hub has been fundamental in providing a collaborative and interdisciplinary space that empowers early-career researchers like myself to lead on innovative research. Working closely with researchers focused on law, social science, arts-based approaches, and marine sciences has opened my eyes to new potential for embedding historical approaches within transdisciplinary settings and action-oriented research, particularly surrounding marine governance. By leading on historical-based research, as well as organising Customary Laws of the Coast and Sea Research and more recently the Hub's Early-Career Research Network, I have been able to develop new skills in leading research groups, dissemination events, and knowledge exchange activities. This has been fundamental to shaping my own research trajectory, as I joined the Hub at a formative time shortly after completing my PhD.
Through the learning I have gained from working with such a range of dedicated and passionate experts whose research cross diverse disciplines, perspectives, and questions, I have been able to substantially develop my own perspectives on the role of historical research within contemporary ocean governance. This has led not only to collaborative programmes in the Hub, but also to success beyond the Hub as I am now also Principal Investigator on an AHRC-NERC-funded project focused on colonisation, fisheries, and environmental sciences in Lake Malawi. This project has given me the opportunity to lead a collaborative team that includes historians, environmental scientists, and policy experts in collaboration with community-focused organisations. The development of new research perspectives as well as the leadership skills and mentorship that I have gained through the Hub has been fundamental to shaping the design of this project.
What, in your view, have been the Hub's most impactful activities?
For me, it is really through engagement with communities, and especially with groups whose voices are not being regularly heard or represented within decision-making processes, that the Hub is making the most impact. One of my most memorable moments to date was being able to sit down with an Apofohene (Chief Fisherman) and his council in Ghana and hear their perspectives on the challenges faced by fishing communities. The Apofohene stated that the very fact we were there to listen and learn from them was an important step and that such listening was a crucial lesson for the future of ocean governance. Such listening is a fundamental first step in working towards impactful change.
This is what we also sought to emphasise in a recent session at the Virtual Ocean Pavilion for COP27 that I co-led alongside Mia Strand, which focused on listening to the perspectives of Indigenous Peoples and Local Communities surrounding knowledge, decision-making, and ocean-climate action. This included one of my favourite outputs of the Hub to date, which was a recorded interview produced by colleagues in Ghana that focused on the perspectives of Peace Abla Gavor, a Konkohene (leader of the fish traders) based in Elmina, who stressed the importance of women's voices and knowledge in informing ocean governance. As she so powerfully declared, "the work of men would be in vain if women do not purchase their fish." To have the opportunity and space to listen and learn from those who are at the frontline of ocean-climate challenges is a privilege, and it is a privilege that we must repay by supporting those groups and communities.
What are the aspects of working in a collaborative environment such as the One Ocean Hub that you value the most?
Coming from a background in historical research, where most of my research to that point had been conducted independently in archives, the Hub has provided me with a unique space to work closely with other researchers with different areas of expertise and research experiences. The past three years has been a real journey for me, being my first real experience of collaborative research for development, in which I have learned a great deal from my fellow researchers, particularly surrounding arts-based approaches, co-development, and research activism. I have met so many fantastic researchers and representatives and have felt incredibly fortunate to learn from their insights and experiences, which is shaping not only how I approach my own research but how I view research, collaboration, knowledge exchange, and impact more generally. As an ECR, the opportunity to regularly converse with other ECRs working across diverse fields and contexts has also been invigorating. I hope and expect that these collaborations and conversations will continue well into the future.
What are the challenges and new demands that early-career researchers face today?
The major challenges surround expectations and employment conditions, in which the dominant trend is that early-career researchers have to undertake several short-term precarious posts over several years. This often requires emerging researchers to move frequently across research projects as well as across institutions and borders, meaning it is incredibly difficult to plant roots and develop long-lasting and truly collaborative research partnerships. Such partnerships are crucial to the research excellence and leadership that is expected of emerging researchers but the opportunities that provide the space and time to meaningfully develop these are all too rare. I have felt incredibly lucky to have become part of One Ocean Hub at such a decisive time in my own research career as this is an experience that has afforded me that time and space. Without a doubt, this has fundamentally shaped my research focus, approaches, and collaborations for the better and for the long-term. 
What is your advice to fellow early-career researchers working on a global development project?
My primary advice would be to think deeply about the benefitof the research being conducted and especially what collaborations (both within and outside academic institutions) are vital to realising this benefit in practice. Such collaborations need to be approached carefully and thoughtfully, with close and constant reflection of your own positionality as well as nuanced historical understanding of the contexts in which you are working. Again, it must be noted that this requires space and time that is not often afforded to emerging researchers and so I would also advise any established researchers and principal investigators to actively support early-career researchers by creating and protecting such space and time for them.
It is also important to remember that your research does not need to—and often should not—be at the forefront of the conversation. Take time to pause and reflect on whether your research would be best employed in support of the activities of your collaborators who may be better placed to ensure that research is put into action in support of those who it is intended to benefit. Make the time and space to listen deeply to colleagues and collaborators in order to understand where and how your research can be put to the best and most meaningful use.
I have also benefitted immensely from the mentorship of insightful and experienced senior researchers, so always make use of such opportunities as and when they arise.