raising unity in ocean-climate action
By Senia Febrica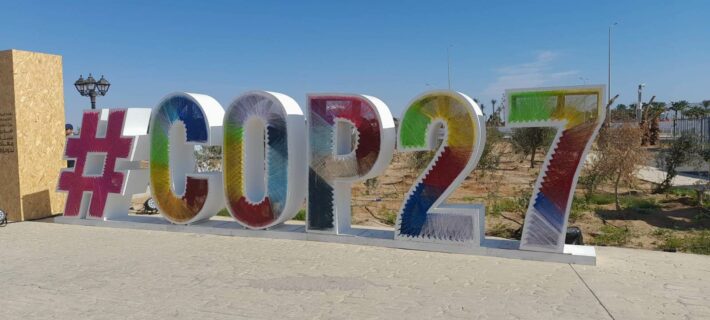 Collaborative and cooperative approaches are being used to progress the ocean in the climate, biodiversity and sustainable development agendas. The closing event of COP27 Ocean Pavilion reflected on what we have learnt about cooperation, in the light of the outcomes and expectations from the major ocean events of 2022.
The One Ocean Hub participated in the closing event of the COP27 Ocean Pavilion titled "Raising Unity in Ocean-Climate Action" on 16 November 2022, which was co-organised by the Global Ocean Forum and Plymouth Marine Laboratory. This blogpost includes summaries of high-level interventions, personal experiences, key messages, and examples of collaborative undertakings from local to global level raised during the event.
The closing event was chaired by the Hub Director, Professor Elisa Morgera. During the event, two short films were screened: "Blue Transformation" by FAO, on a vision for enhancing aquatic food systems; and "Indigenous Peoples, Traditional Knowledge, and Ocean-Climate Action" by Blue Ventures Outreach Media Technician, Symphorien Nihala Maniry Soa, on traditional Vezo knowledge and sustainably managed marine resources. The second video was first shown during the Hub-led live-event for the COP27 Virtual Ocean Pavilion "Indigenous Peoples, Traditional Knowledge, and Ocean-Climate Action" on 10 November 2022.
At the event, Dr Aboud S. Jumbe, Principal Secretary, Ministry of Blue Economy and Fisheries, Zanzibar, Tanzania, stressed the need to focus on:
solutions to improve resilience and adaptation that pay close attention to climate-biodiversity interlinkages;
efforts to strengthen ties between different regional and international cooperation frameworks that can improve climate adaptation and mitigation, such as the Indian Ocean Tuna Commission, Indian Ocean Rim Association, and the Global Plastic Treaty; and
nature based solutions to combat coastal degradation.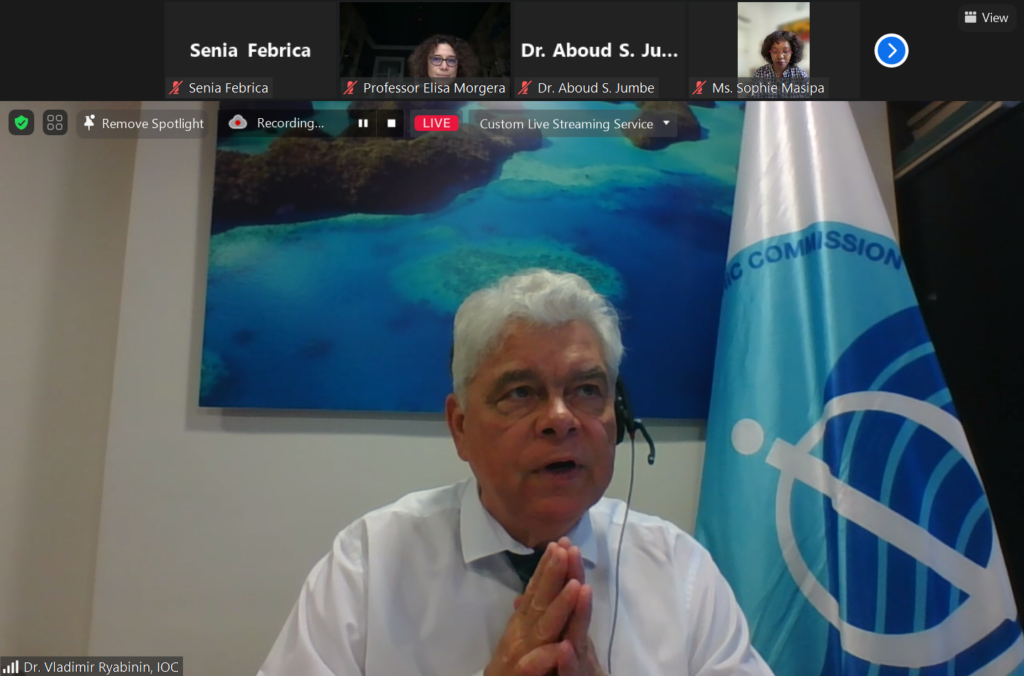 Dr Vladimir Ryabinin, Executive Secretary of UNESCO Intergovernmental Oceanographic Commission (IOC-UNESCO), emphasized the need to advance ocean-climate action and of collaborative ocean science. Reflecting on negotiations during COP27, Dr Ryabinin noted that:
given the damaging impacts of climate change, we must change the way we deal with climate change from 'linear and symptomatic' approaches to solutions that mainstream sustainable ocean planning based on science;
The core idea in sustainable ocean planning is co-design and co-production of ocean knowledge and solutions that incorporates the vision of many stakeholders; and
SDG14 is by far the least funded SDG. This lack of funding hampers the achievement of SDG14 targets.
Ms Sophie Masipa, Director of OceanHub Africa, discussed the leveraging of available financing to strengthen ocean-climate action, highlighting:
The private sector plays an important role in implementing change, providing finance to support ocean-based solutions and investing in blue economy;
Access to financial support is needed for research and technical assistance into ocean-based solutions.; and
Climate finance needs to be flexible, innovative, and promote low carbon development.
Mr Andrew Stephens, Executive Director of Sustainable Shipping Initiative, provided valuable insights on accelerating green shipping through collaborative and cooperative approaches, underscoring:
The importance of sustainable shipping because 80 per cent of world trade is transported through shipping;
The need to look beyond sustainable fuels to improve climate resilience and adaptation; and
Partnerships that bring in diverse voices are needed to encourage green solutions in maritime trade corridors.
Ms Thecla Keizer, Plymouth Marine Laboratory, reviewed the role and success of COP27 Virtual Ocean Pavilion in democratizing the ocean at COP27 and promoting unity and inclusivity, having engaged 2,000 registrants from 115 countries. Mr Richard Delaney, Center for Coastal Studies and Global Ocean Forum, announced continuous commitment towards organizing the 2023 Virtual Ocean Pavilion for COP28 in the United Arab Emirates.
Prof Morgera concluded the event by emphasising:
See the event recording here.