Reflecting on IMPAC5 and the need to prioritise Indigenous- and community-led marine protection
By Mia Strand and Nina Rivers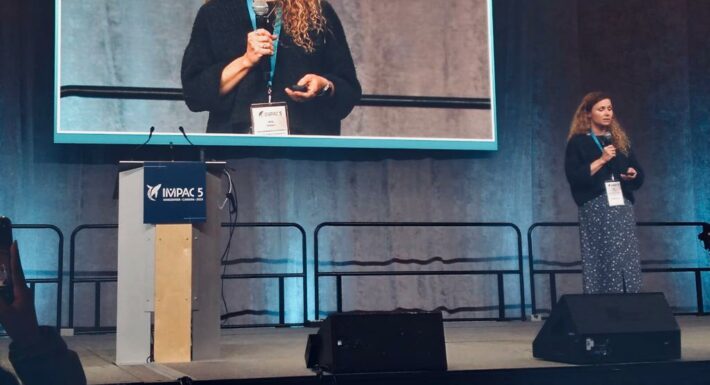 From our point of view as social scientists who are passionate about pathways to ensure more inclusive and equitable ocean governance, IMPAC5 focus on Indigenous- and community-led marine conservation and protected areas was inherently inspiring. The conference, taking place on the unceded territory of the xʷməθkʷəy̓əm (Musqueam), Sḵwx̱wú7mesh (Squamish), and səlilwətaɬ (Tsleil-Waututh) First Nations in Vancouver, Canada, aimed to provide a platform for the global community to come together to chart a course for achieving ocean conservation targets such as protecting 30% of the ocean by 2030. It also aimed to "bring together Indigenous Peoples and cultures from around the world to embrace a collaborative approach and learn from Indigenous leadership in ocean conservation".
This blog post reflects on the importance of Indigenous- and community-led marine protection and governance, providing some lessons emerging from the different sessions and presentations at the Congress. It then moves on to share a bit about our own presentation on marine cultural heritage in South Africa, outlining some of the emerging policy recommendations from our work. Finally, we welcome the strong focus on social inequities and injustices in marine protection, and think about how this should be considered moving forward. This is our personal reflections as early-career researchers working with issues of social justice, socio-cultural priorities, and marine cultural heritage in area-based ocean management in South Africa.
The importance of Indigenous- and community-led marine protection
During her keynote, Senior Vice President for Oceans at Conservation International Aulani Wilhelm emphasised that protecting 30% of the ocean by 2030 is not the real goal. We need to in fact be sustainability stewarding 100% of our oceans and coasts. . Aulani emphasised that we are not facing a conservation problem, but a human problem, and we need to share lessons and challenges across contexts, countries, First Nations, coasts and communities. Aulani also raised another critical point; that we need to question whom we are protecting the ocean for. Several Hub colleagues in South Africa already argue that marine protected area management needs to shift focus from protecting from to protecting for local coastal communities (see Sowman and Sunde, 2018; Mbatha, 2022).
Throughout the conference, the point that 80% of the world's remaining biodiversity is stewarded by Indigenous populations was reiterated, and that Indigenous and local coastal communities suffer the most when biodiversity is threatened. This was particularly emphasised by keynote speaker Christina Mittenmeier from Sealegacy, who introduced their work across the globe and their catchphrase: 'Without stories the ocean dies in silence'. Aligned to the work of several Hub researchers in South Africa, one could argue that 'without stories, coastal communities and custodians are perpetually marginalised in silence'.
The absolute highlight of the conference from our perspective were the Indigenous- and community-led presentations and sessions focusing on Indigenous- and community-led conservation, protected areas and ocean management, and co-management structures, with examples from countries such as Haida Gwaii (Canada), Mayala Inninalang (Australia), Patagonian Chile, Madagascar and Rapa Nui (Ecuador). Some of the key lessons from these inspiring cases were:
The benefit of developing your own management plan prior to engagement and negotiations with government;
During negotiations, the importance of emphasising that community-led marine protection is a long-term undertaking and not to be dictated by the present political dispensation or representative in charge;
Ideally, communities should pursue negotiations directly with government, instead of conservation authorities, non-governmental organisations and/or local governments;
Establishing role as partners, not stakeholders;
The importance of upholding and respecting strict rules for respectful and culturally appropriate knowledge sharing;
Starting with blank sheets – not government or conservation authorities coming with ready-made plans or maps for comment – but rather building on community-led initiatives. As stated by Rowena Mouda from Mayala, 'Grab the tools and make them work for you';
Opportunities of relying on customary law approaches and sociocultural mapping (see McGarry et al., 2022 on counter hegemonic mapping);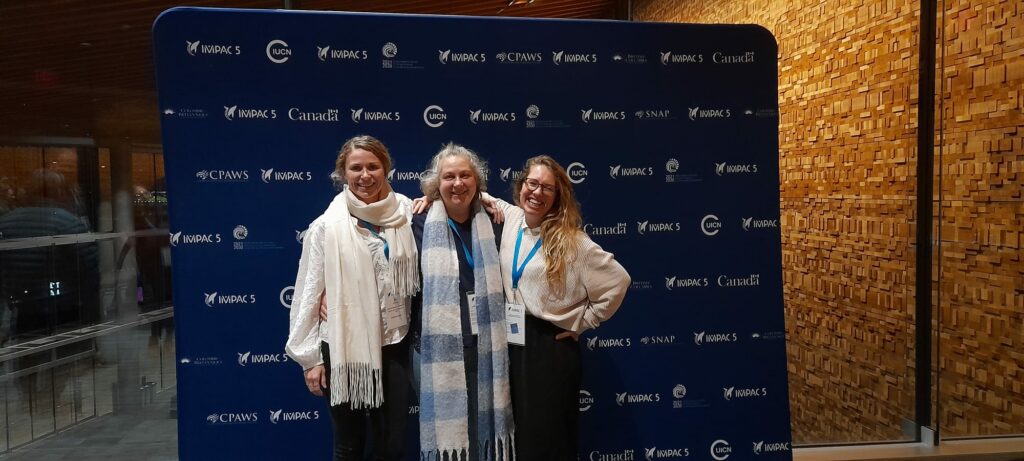 Emerging policy recommendations to better recognise plurality of marine cultural heritage
The latter aspects aligned with our own presentation at the conference, focusing on recognising a diversity of marine cultural heritage in ocean protection processes, which can be increasingly pursued through participatory community mapping of cultural connections – or what Gee et al. (2017) refer to as culturally significant areas. Together with Masters student Chilo Loyolah Nonyane and colleagues from the Algoa Bay Project, we have tested and contextualised Gee's framework for this particular mapping in different South African contexts, and developed lessons and recommendations for best practices, which will be published later this year. In the conference presentation, however, we presented some of our work in Algoa Bay (see Strand et al., 2022; Strand et al., 2022 and Rivers et al., 2023) and uThukela marine protected area, and pointed out that there is a recognised lack of marine cultural heritage knowledge and management in area-based ocean management. The complexity of identifying, evaluating and recognising marine cultural heritage and cultural connections in marine governance cannot be understated, and careful, ethical and response-able work is needed.
The focus of our presentation was therefore on policy recommendations directly targeting marine protected areas management in South Africa to better recognise the plurality, multitude and diversity of marine cultural heritage intrinsically linked with and attached to the ocean. These were categorised according to urgency and the effort the South African government specifically, and other governments more broadly, should invest to make them a reality, and included;
Urgently, governments must:
i) Improve access for coastal communities to existing marine protected areas;
ii) Ensure that management plans recognise a multitude, plurality and diversity of marine cultural heritage, as defined by Indigenous, traditional and local coastal communities;
iii) Prioritise participatory community mapping of local coastal communities' priorities, interests and cultural connections, to inform adaptive management of marine protected areas.
In the near future, governments should:
iv) Revisit and readjust the marine protected areas declaration process, to ensure it involves social science(s) expert involvement (alongside marine science(s)), and specifies the involvement of local coastal communities in the zonation, priorities, objectives and goals of the specific protected area;
v) Improve coordination of existing legal frameworks, such as the Protected Areas Act 57 of 2003 and the National Heritage Resources Act 25 of 1999;
vi) Co-design, co-develop and co-manage protected areas with local coastal communities.
In the near future, it would be ideal if governments:
vii) Prioritised Indigenous- and community-led marine areas and marine governance;
viii) Expanded their understanding of marine protection, to include culturally significant areas.
The above policy recommendations are aligned with international human rights and biodiversity guidance (see Framework Principles on Human Rights and the Environment and A/HRC/34/49), and the latter recommendation can be supported by Ludovic Burns Tuki's Te Moana presentation from Rapa Nui, arguing that protection is a human concept. Even further, it is a Western, Eurocentric concept. Ludovic shares that Indigenous communities, on the other hand, think about Respect, Balance and Reciprocity. For many Indigenous communities in Australia, the coast and ocean is like family, and that you care for your coast and ocean like you care for family members. In New Zealand, the concept of giving rights to nature is acknowledged and practised , and Professor Dan Hikuroa highlighted that the current dominant ways of practising ocean management has failed, and that we rather should remember the ways in which Indigenous Peoples have been sustainably co-existing with the ocean.
Equity and environmental justice in ocean governance moving forward
Another highlight of the conference was the strong focus on equity, socio-cultural justice and anti-racism in ocean protection and governance. In their session on mainstreaming equity in marine protected areas, the Ocean Nexus Center introduced their definition of ocean equity as 'dismantling systemic inequity'. This involves an intersectionality of queer studies, critical race theory, postcolonial theory and Indigenous governance theory, to name a few, and a critical consideration of who is benefitting from the ocean (and ocean protection), and who is not. Similarly, during a session launching the Ocean Defenders Project, emphasis was placed on the downside of 'blue acceleration' and how blue growth is producing (and reproducing) social injustices. The project, which aims to increase the knowledge base about ocean defenders (see Bennett et al., 2022) and build a network of ocean defenders across the globe, has already engaged Hub director Elisa Morgera (see Bennett et al., 2023) and Hub researcher Taryn Pereira.
The above topics are all fundamental aspects of current debates about ocean governance in South Africa, which continues to be characterised by top-down approaches, often leading to the disregard or exclusion of priorities, interests and knowledge systems of coastal communities. There is therefore an urgent need, both globally and nationally, to ensure that marine protection projects and processes start with considerations of social wellbeing, the rights of Indigenous and local coastal communities (see here and here), and historical and contextual injustices and inequalities. One way to ensure this is to recognise a plurality and diversity of marine cultural heritage, to ensure that current ocean governance is not devaluing Indigenous and local communities' histories, lived experiences and knowledge systems. Our ongoing research is therefore exploring different mechanisms and opportunities to realise this in a South African context, which we would hope to present by the next Congress.
Finally, there was an obvious lack of African representation at the conference due to travel costs and visa requirements, and we are very happy to know that IMPAC6 will be organised in Senegal.